BlindsOnTime.com Shipping Policy
At BlindsOnTime, your satisfaction is our #1 priority, and we take pride in providing you with fast, dependable and safe delivery service. Each order is shipped using whichever option is best suited for your order.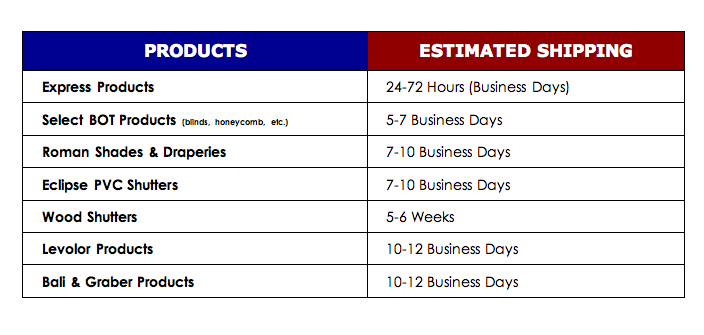 1) Standard Ground - FREE
Small-to-medium sized orders will ship at no expense to you. Shutters that are shipped from the same manufacturer have a flat fee of $95 per order. BlindsOnTime will email you a tracking number so you can track the order and check on the delivery date. Shipments usually arrive 3-6 business days from the time they leave the warehouse.

Expedited Shipping Services are available, including: Next Day, 2-Day, 3-Day Services. BlindsOnTime will not be liable for expedited shipping charges due to delay in the lead time of an order. Expedited shipping services are offered only to speed up the Transit Time. We have no control over the in-house time of an order (time prior to shipment) and do not guarantee or promise delivery dates. Therefore, we request that our customers plan ahead and place timely orders that allow for both in-house and the transit time. Lead times that are stated on the product pages represent the Average time frame a manufacturer is shipping their product and are not to be taken as a guarantee. Instead, they should be used as a rough guideline for estimating the lead times. Contact Customer Service to arrange for expedited shipping at (877) 230-3006 or Live Chat.


2) Truck Freight - Large Items
A truck freight charge is applied to any order that includes a product 95" wide and over. Products these sizes exceed the maximum width allowed for UPS ground shipping, Federal Express or DHL. Your purchase will ship via truck freight. Items shipped freight are delivered to curbside or driveway only and incur a $95 oversized item surcharge; for any additional delivery needs or questions please contact our customer service professionals at (877) 230-3006 or Live Chat. Truck freight orders require that someone is available to accept the delivery. Most carriers will contact you to set up a delivery time, usually a 2-4 hour appointment window during normal business hours.

If the carrier is unable to contact the customer, the customer will then be responsible for any storage fees, freight charges back to the manufacturer in addition to the original shipment expense.
3) Alaska & Hawaii
There is an up-charge for shipping to Hawaii and Alaska. Shipping to Alaska is a $30 per blind. 2-day service to Alaska is estimated at $60 per blinds, and 1-day service is estimated at $90 per blind. The estimated cost for ground shipping to Hawaii is $50 per blind, 2-day service to Hawaii is estimated at $100 per blind, and 1-day service is estimated at $150 per blind. We will contact you for approval before proceeding with these charges. Consider ordering Levolor brand products for Alaska and Hawaii. Ground shipping charges are only $35 total for widths under 108" and 200 lbs. and $85 total for larger orders!
4) Estimated Transit Time
On each product page we display the particular manufacturer's stated lead time, which refers to the time from their receipt of your order to when it's ready for pickup. This lead time does not factor time in transit with the shipping carrier.

Standard Ground: 2-6 Days
Truck Freight: 2-7 Days

Keep in mind that orders including multiple window treatment brands are produced at different manufacturing facilities. This may prevent your complete order from arriving at the same time.


5) About Estimated Shipping Times
At BlindsOnTime, we do our best to provide you with accurate shipping times for our products. These times are estimates only. The "Estimated Shipping" time is provided to BlindsOnTime.com by each manufacturer, and is an estimate of the average number of business days it takes the manufacturer to process your order and ship the item from their warehouse. These shipping times are not a guarantee.

If you have a time sensitive project we recommend that you call a sales specialist at (877)230-3006 or Live Chat  and arrange expedited shipping. BlindsOnTime.com is not liable for costs associated with shipment delays.